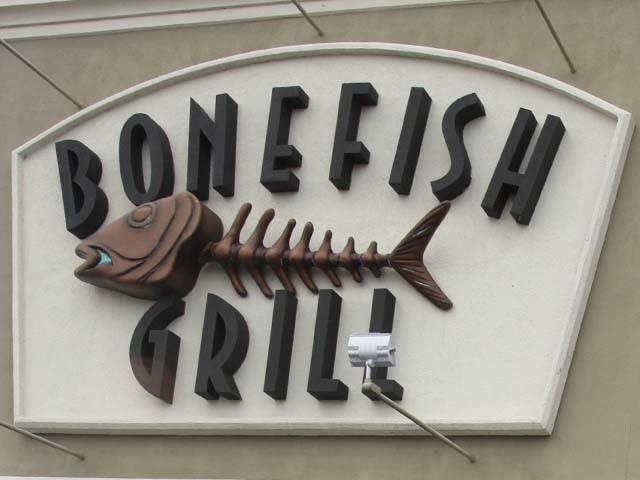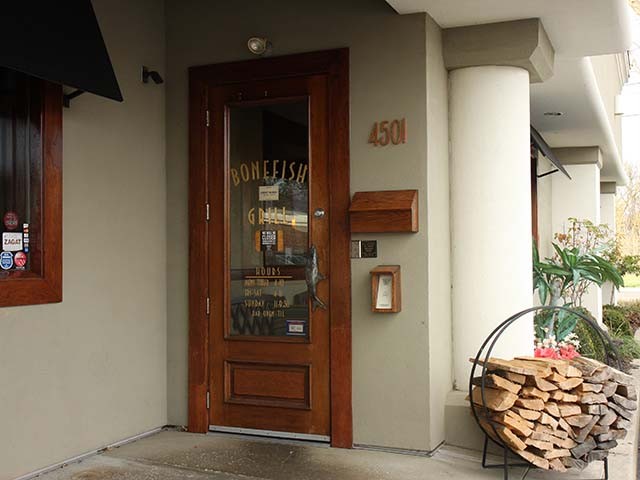 Most of us in the gluten free community already know that BoneFish Grill has an extensive gluten free menu. If you have not been to visit their restaurant recently, it's definitely worth a visit. They have added some new items to their gluten free menu and even have gluten free options available on their Sunday brunch menu.

Service at the Bonefish Grill located on the northeast side of Indianapolis is superb. The cook and wait staff are knowledgeable about their gluten free menu items. The wait staff is eager to help and serve. Make sure you ask for their gluten free menu.

Now included among some of their gluten free alcoholic beverages are Red Bridge Gluten Free Beer, Sam Adams Angry Orchard Cider, Winter White Cosmopolitan and a Fresh Apple Martini. We loved the beer and the cider. The Cosmo and Apple Martinis were refreshing and just delicious.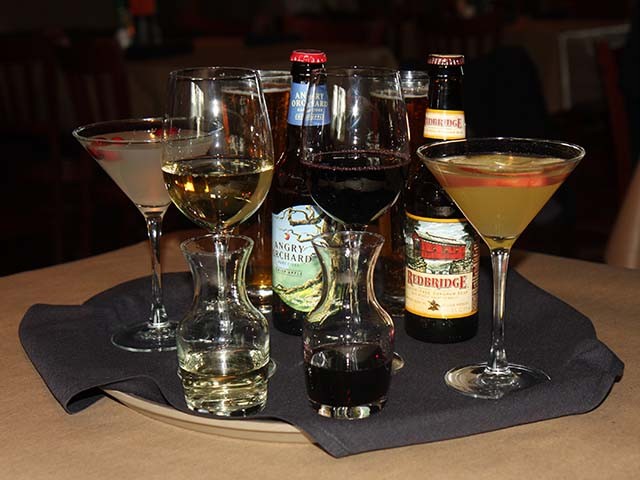 Here's a brief description of the mixed drinks we sampled and enjoyed:
Winter White Cosmopolitan; Stolichnaya cranberry vodka, white cranberry juice, Cointreau and their house made sweet lime juice. The drink is served garnished with frozen cranberries.
Fresh Apple Martini; Vodka infused with fresh fall apples, cinnamon sticks and Domaine de Canton ginger liqueur. This is a sure bet to become one of your favorite Holiday cocktails, it's like Christmas in a glass.
Appetizers:
We tried the Mussels Josephine and the Saucy Shrimp and were not disappointed. The Saucy Shrimp has been one of my long time faves at Bonefish. If you like savory dishes order the Saucy Shrimp!!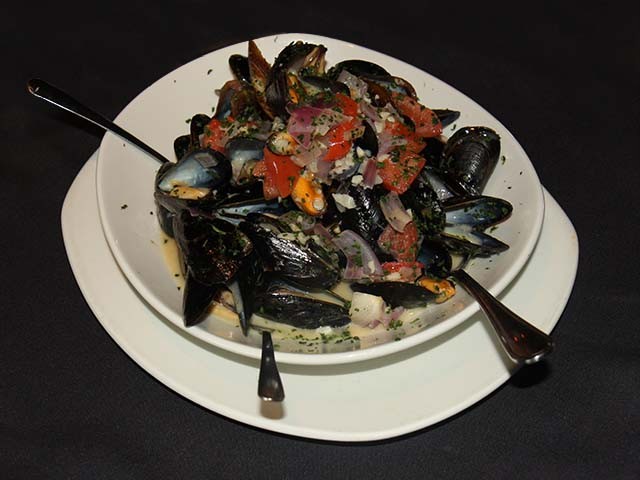 Mussels Josephine; You get a generous portion of Prince Edward Island Mussels sautéed with garlic, diced tomatoes, red onions and a white wine sauce.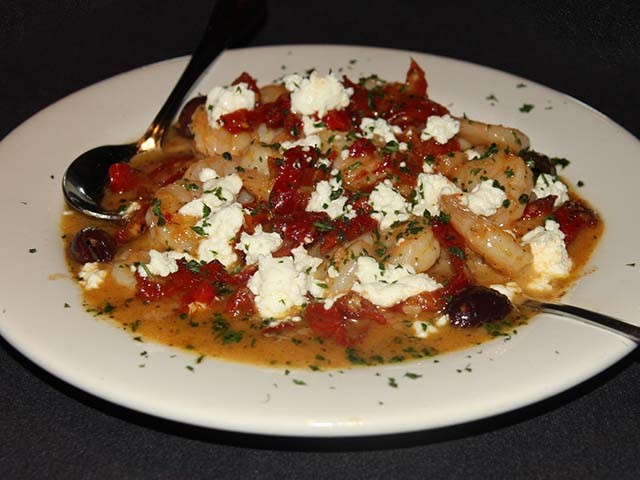 Saucy Shrimp; 7 oz. of wild shrimp sautéed in lime tomato garlic sauce with Kalamata olives, sun dried tomatoes and feta cheese. These were showcased on our demo stage at the Gluten Free Living Now Expo this past October. Everyone loved this dish and if you have not tried the Saucy Shrimp….this is a must try!! I am guilty of going to Bonefish just to order their Saucy Shrimp.
Entrees:
Entrees are served with your choice of sides. Those include: Garlic whipped potatoes, Herbed Jasmine rice, French Green Beans, Steamed Broccoli, Steamed Asparagus, Vegetable medley and seasonal traditional glazed carrots, which I highly recommend.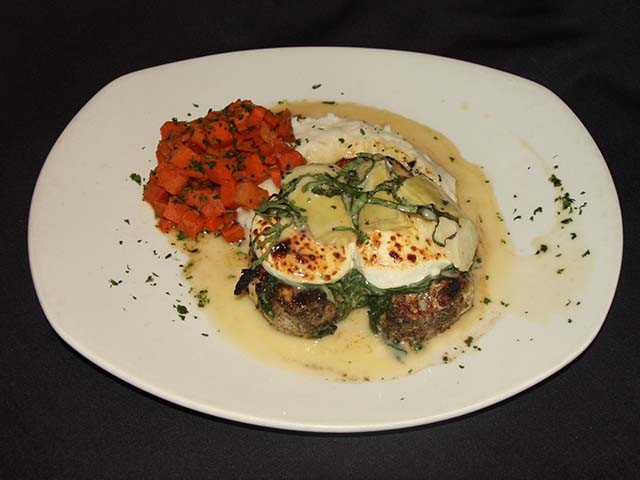 Lilly's Chicken; You will get a very generous portion of chicken breast. The breast is seasoned and wood grilled and then topped with sautéed spinach, Chevre goat cheese, artichoke hearts, and lemon basil butter sauce. The chicken is tender and flavorful. This dish will fill you up and keep you coming back for more!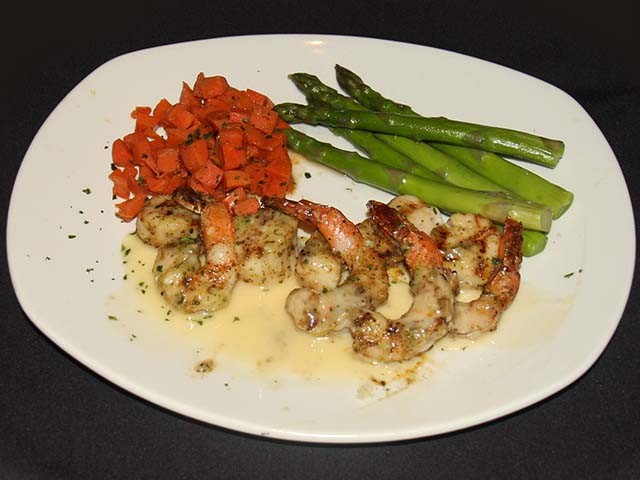 Shrimp and Scallops; Wood grilled shrimp and sea scallops brushed with a citrus marinade and topped with your choice of 3 signature sauces that include a mango salsa, chimichurri or lemon butter with a white wine reduction sauce. These were cooked to perfection, and scrumptious!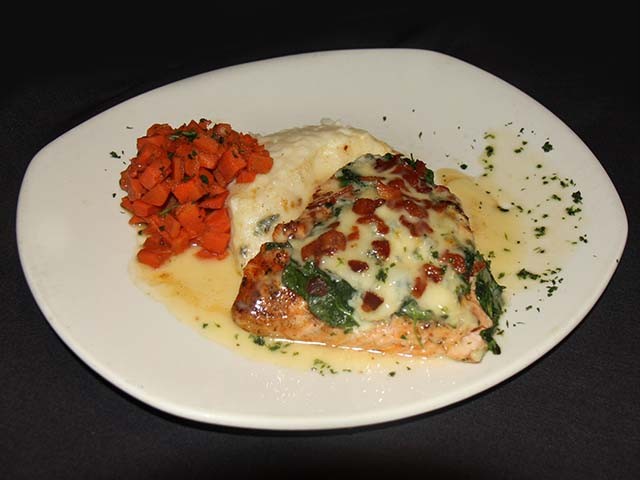 Spinach Bacon Gorgonzola Salmon; Wood grilled hand cut Atlantic Salmon topped with sautéed spinach, crispy bacon and creamy gorgonzola cheese. This entrée is available in a 6 or 8.5 oz portion. I don't usually order the salmon because I am not fond of a "fishy" tasting entree. This is Atlantic salmon which is less fishy than some of the other types of fish. It is hand cut and hand inspected for freshness and quality. Since it is prepared on the wood grill, there's a mild hint of smokiness. Flaky, tender and delish. This dish is one of our new favorite's.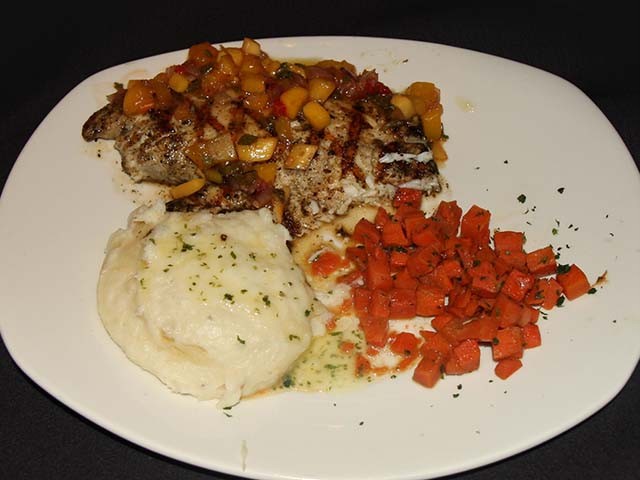 Tilapia; Wood grilled fresh tilapia fillet topped with mango salsa. Mango salsa ingredients are diced mangos, cilantro, red pepper, red onion and a sweet thai chili sauce. Tender, light and flavorful, the tilapia was cooked and seasoned perfectly. Tilapia is a milder sweeter fish without the "fishy" taste of many other types of fish we have tried. If you love a more mild, sweeter fish, you will love this dish!! Accented with the sweetness of the mango salsa, this one is a must try!
Brunch Menu:
The brunch menu is a fairly new addition to BoneFish Grill's repertoire. Brunch is from 11 am-2 pm every Sunday. Of course, you may still order your favorite entrees off their regular gluten free menu.
Although, there is not a separate gluten free menu for the brunch items, there are options that can be made gluten free.
The two delicious items we sampled from the brunch menu are: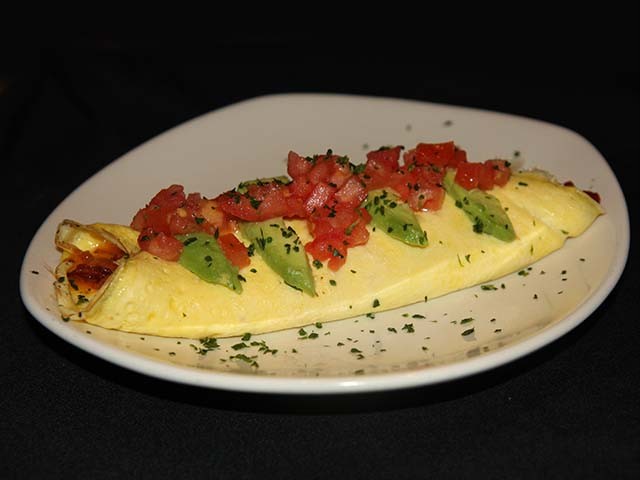 California Omelet; This is a light and fluffy omelet filled with apple wood smoked bacon, caramelized onions and cheddar cheese topped with diced tomatoes and fresh avocado. We just love breakfast food!! This omelet is a sure bet to satisfy your breakfast food cravings!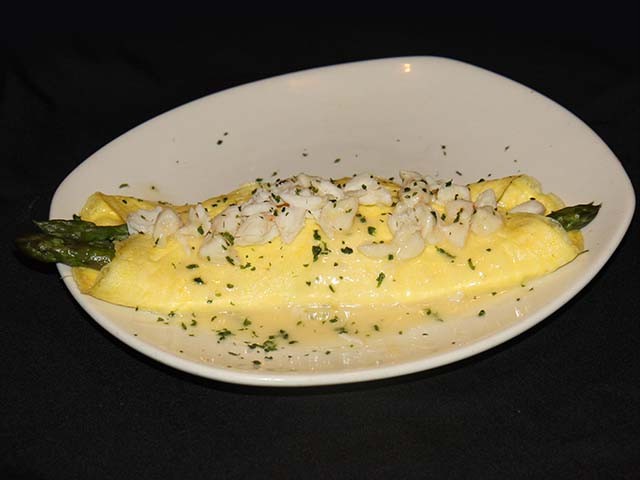 Oscar Omelet; Another light and fluffy omelet filled with asparagus, smoked mozzarella cheese then topped with jumbo lump crab meat and lemon basil butter sauce. Somehow all the flavors in this omelet marry well together!! If you like crab…..you will love this omelet!
Desserts:
After trying all of these amazing dishes, that were presented so beautifully they could have all been featured in a gourmet food magazine, we were not so sure we had room for dessert. However, after the desserts were brought out to our table, even though we were stuffed to the hilt, we literally could not help ourselves! A picture is truly worth a 1000 words. Just look at these dessert pics and then try to deny your cravings……not going to happen!!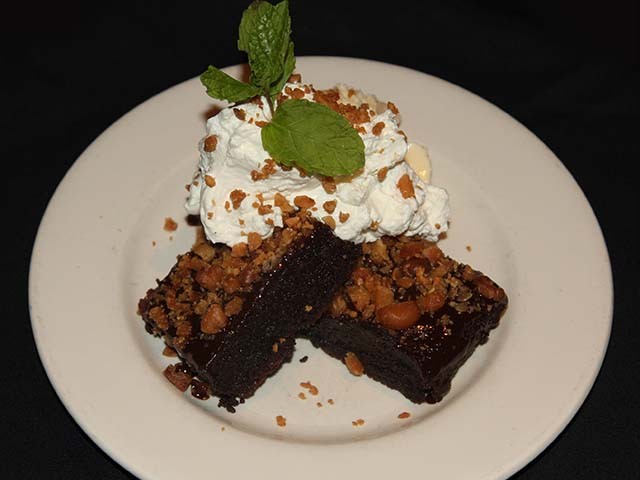 Chocolate Macadamia Nut Brownie; A large, warm, flourless macadamia nut brownie served with Blue Bell Vanilla Ice Cream, topped with their homemade whipped cream and macadamia nuts. This dessert is the ultimate in chocolate decadence, impossible to take just one bite!!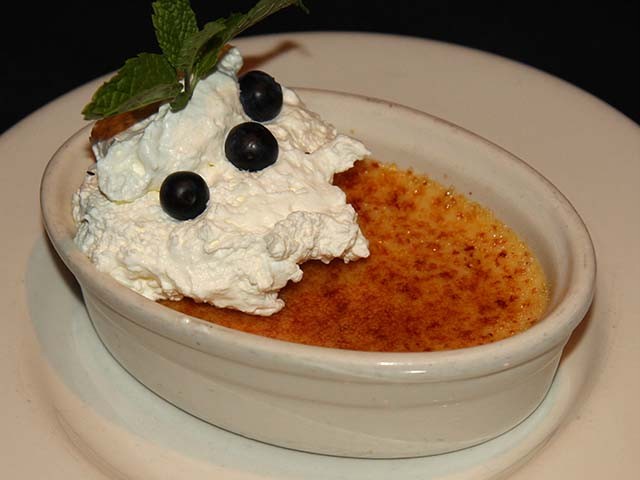 Crème Brulee; Traditional burnt custard topped with fresh homemade whipped cream and blueberries. This dessert was rich, creamy and smooth with a perfect crust. Accented with homemade whip cream, all we could say was "Wow!!"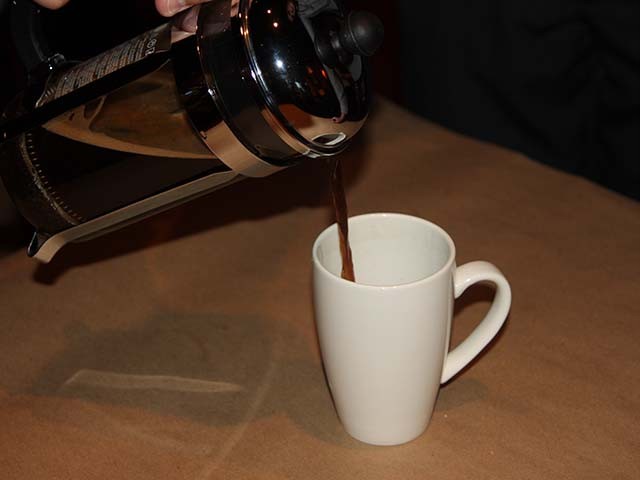 Don't forget to add a cup of their specialty coffee and you have a perfect dessert combo.

You can have your own divine dining experience at Bonefish Grill 7 days a week at:
4501 East 82nd Street
Indianapolis , IN 46250
Phone: (317) 863-3474
Hours:
Sunday 11:00 AM - 9:30 PM
Monday - Thursday 4:00 PM - 10:00 PM
Friday & Saturday 4:00 PM - 11:00 PM

* Reservations are suggested