Cheeseburger In Paradise (CIP)

is a national restaurant chain that has many gluten free menu options. They have a separate gluten free menu that boasts gluten free buns made by The French Meadow Bakery. Even though you can go there and get a burger with the gf bun….their menu has a variety of options from tilapia, salmon, shrimp, bbq ribs and salads plus much more!
CIP

racks and washes their silverware separately that is specifically designated for those that come in and order gluten free. Your silverware will come banded in a napkin with a white band at the Fisher's location. To take further precautions they have a designated cook who is supervised by an in house manager when preparing your gluten free meal.
There is a separate grill area and dedicated fryer….so this will put your mind at ease when ordering gluten free fries. But we can never be too careful when eating out gluten free. We strongly advocate asking all the appropriate questions about gluten free meal preparations. That being said, the GM assured us things are done basically the same at each one of their locations as it comes from their company's national directive. At the Fisher's, Indiana location we were able to eat their appetizer of sweet potato chips and they did fry these up in their dedicated fryer for us…..but it is not on the gluten free menu and whether or not each location will accommodate this is not guaranteed. There is a note on the back of the gluten free menu that mentions GIG's (Gluten Intolerance Group) involvement with the information on the gluten free menu.
The staff and servers during our visit were pleasant and helpful, they did not mind answering any of our questions and if there was a question our server could not answer the manager was more than happy to.
They offer a variety of alcoholic mixed drinks and currently offer Redbridge gluten free beer. They will be carrying Angry Orchard soon. We will be returning to do a blog on their variety of mixed drinks that are gluten free. There are drink specials everyday of the week and we will be including that in the gluten free drink blog so stay tuned for our next blog on

CIP

……
Enjoy reading about the drinks, appetizers, entrees and dessert we tried below:
(Voted Best Cocktail In America 2006 by the National Beverage Awards)
Made with layers of frozen Sangria, Margaritaville Tequila Margarita, Strawberry Daquiri, Coruba Coconut Rum Pina Colada and topped with a float of blue curacao. We loved this fruity tropical tart drink, easy to see why it won the "Oscar" of the National Beverage Awards!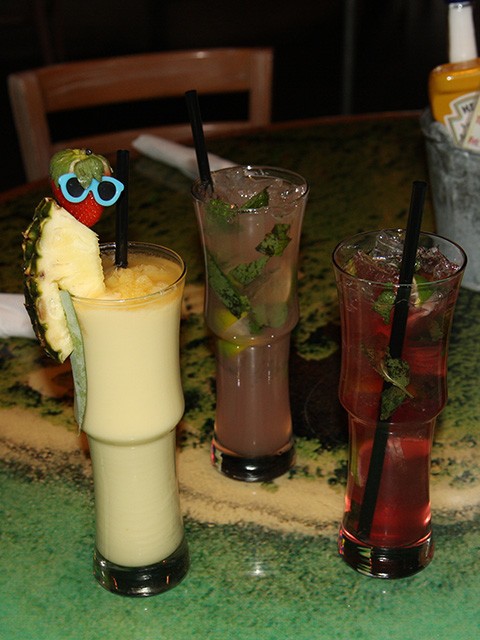 World Famous Pina Colada (above left)
Their signature Pina Colada recipe topped with Cruzan Aged Dark Rum. Delicious and tropical!
Pomegranate Mojito (above right)
Skyy Passion Fruit Vodka, pomegranate syrup, limes and mint leaves and topped with club soda. Yum!
South Beach Mojito (above middle)
Cruzan Mango Rum and X-rated Fusion liqueur shaken with orange juice, limes and mint leaves and topped with club soda. This was one of our faves….light and fruity!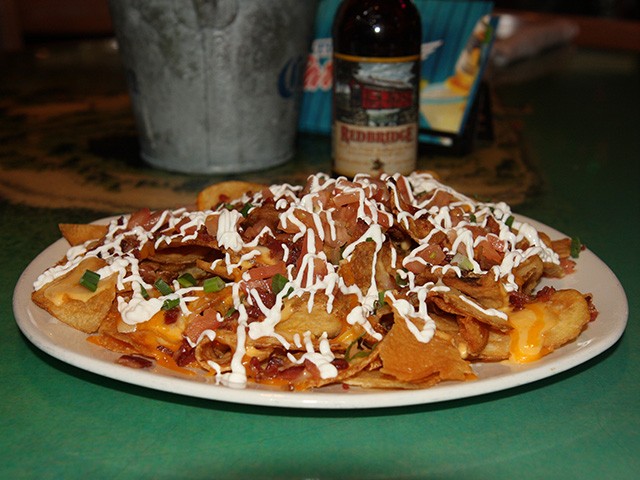 Fresh made Idaho chips layered with melted cheese sauce (melted jack and cheddar cheeses), sprinkled with Applewood smoked bacon bits, tomatoes, green onion and a drizzle of sour cream. We loved this appetizer, hard to eat just one chip!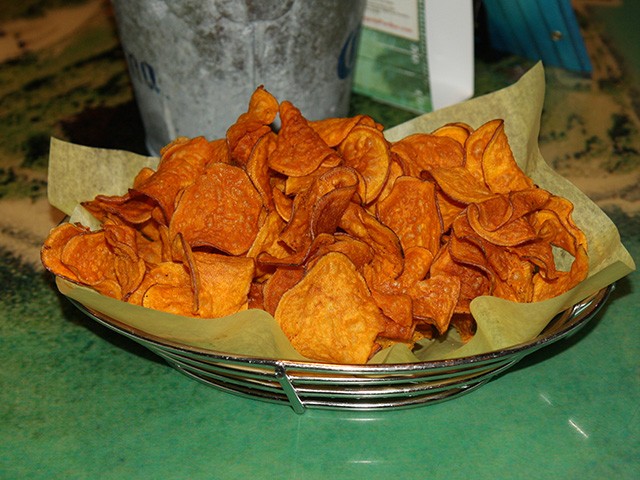 (not on the gluten free menu but the CIP, Fishers, Indiana location fried these up for us in their dedicated fryer)
Thin crispy sweet potato chips fried up to perfection! Yum! This will definitely satisfy your sweet and salty cravings.
CIP does have a variety of salads on their gluten free menu. Many of their salads can easily be substituted as a meal, so if you are looking for some healthier menu options this may be the way to go. We tried the Calypso Chicken Salad.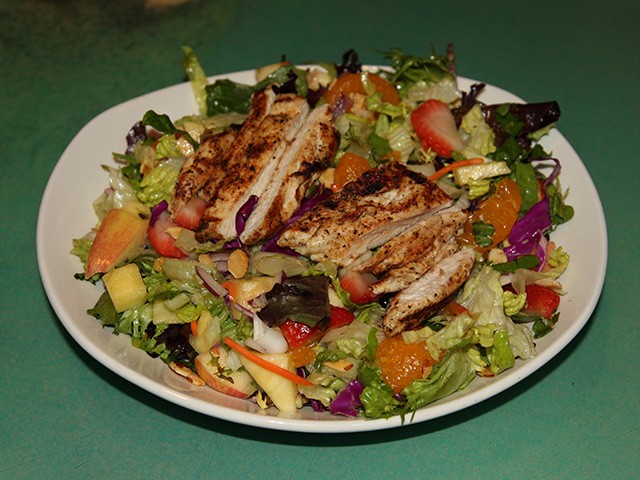 Calypso Chicken Salad With Grilled Chicken
Roasted Chicken, strawberries, pineapple, mandarin oranges, apples, honey roasted almonds, and red onions tossed with a fresh salad mix and citrus vinaigrette dressing. You may substitute grilled or blackened salmon. We loved this salad!
Salad dressings that are gluten free are the Citrus Vinaigrette (which we highly recommend), balsamic vinaigrette, ranch, honey mustard and blue cheese.
Entrees
(there are many more gluten free options on their gluten free menu; these are the ones we tried. Their burger options can be substituted for a turkey burger or veggie burger made by Franklin Farms at no additional charge. For Kobe beef there is an additional charge of 1.99 and Gluten Free buns cost an additional 1.00. All burgers are typically served with french fries.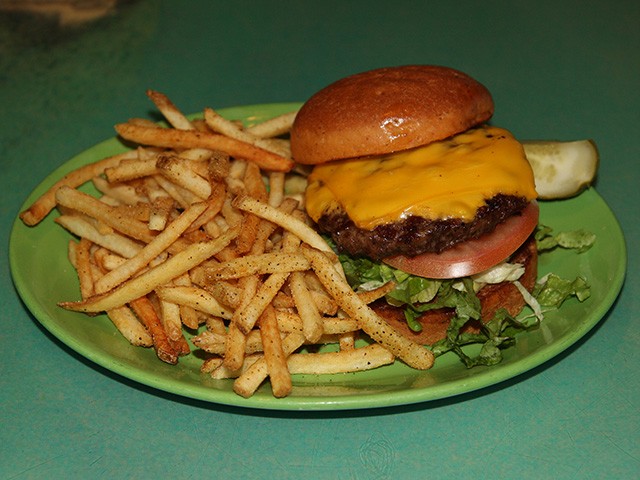 All-American Beach Burger
American Cheese, pickles, shredded lettuce, red onion & tomato, with a kosher dill pickle on the side, served with fresh gluten free fries or your choice of sides. Sometimes the best tasting things in life are those with the simplest ingredients. This is a no frills burger that won't disappoint. Really good!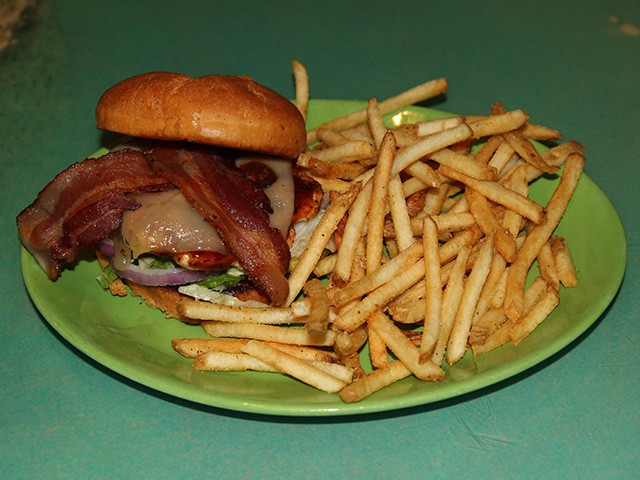 BBQ grilled chicken breast with Applewood smoked bacon, swiss cheese, pickles, lettuce and red onions. Comes on a gluten free bun and served with your choice of sides that include french fries, fresh Idaho potato chips, coleslaw or steamed broccoli. Delish!
Sweet Fire Chicken Sandwich
May 2013 edited! Sauce has been changed and is no longer gluten free BUT they have an alternative you may order. This is NOT on the GF Menu any longer. Please make sure you ask your server about it if you are interested or discuss other options with the manager. Blackened chicken breast with pepper jack cheese, Dragon sauce, banana peppers, red onion and shredded lettuce. If you like sweet and spicy you will love this sandwich.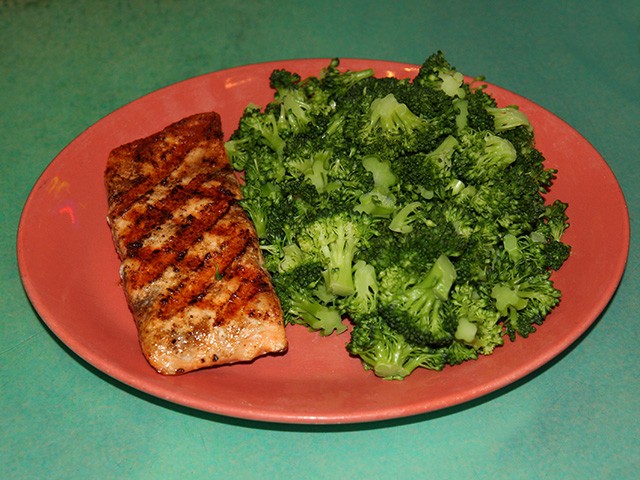 Grilled Atlantic Salmon
This entrée typically comes with the Island Rice and teriyaki broccoli…..these options are NOT gluten free so you can substitute your choice of gluten free sides which are the french fried potatoes, fresh Idaho potato chips, coleslaw or steamed broccoli. Another good side option is a small dinner salad. Surprisingly Delish!!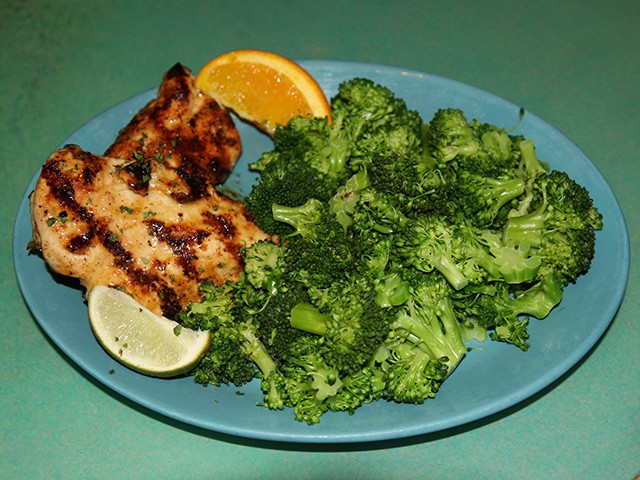 Order without the Island Rice and teriyaki broccoli.

Citrus marinated chicken breasts, seasoned and grilled….served with your choice of gluten free sides. We loved this dish!!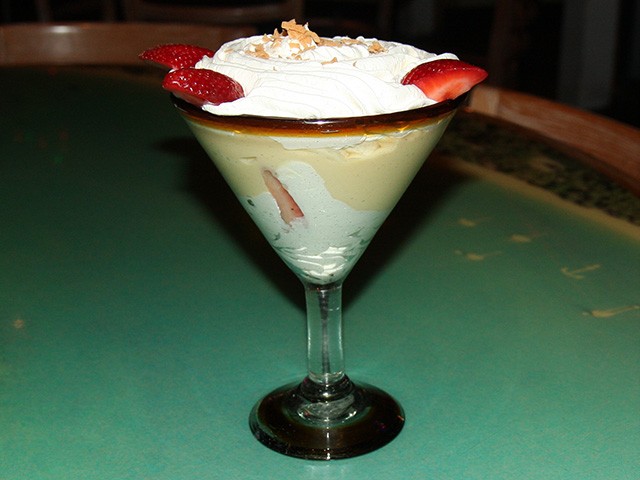 Make sure you order this without the wafers. The dessert is a banana pudding layered with fresh bananas, strawberries and topped with whipped cream and toasted coconut. Rich and creamy this dessert is the ultimate in decadence! If you like bananas you will love this dessert! We did!
4670 Southport Crossings Drive
Indianapolis, IN 46237

Phone: 317-883-4386
Fax: 317-883-4086
Hours of Operation
Monday: 11:00am - 12:00am
Tuesday: 11:00am - 12:00am
Wednesday: 11:00am - 12:00am
Thursday: 11:00am - 12:00am
Friday: 11:00am - 1:00am
Saturday: 11:00am - 1:00am
Sunday: 11:00am - 11:00pm