Puccini's has some new gluten free options which they will be implementing at each one of their restaurants in the middle of January 2013. New gluten free options that are available now are their baked spaghetti and Italian meatloaf. They do not have a separate gluten free menu but gluten free options are listed on their regular menu, and Puccini's will be updating their menus soon to include the baked spaghetti and meatloaf
.
Recently, we had the opportunity to sample some of their new gluten free options as well some of their regular gluten free options.
We visited their restaurant at the Carmel, Indiana location and we asked some important questions in regards to gluten free preparations. Each one of their restaurants follows the same protocol. For their gluten free options we did discover that when preparing your gluten free meals they do use separate clean gloves. They also have a separate prep area for gluten free items, dedicated utensils and equipment when it comes to applying the sauce to the gluten free pizzas, and gluten free pastas. Puccini's even has a separate sauce that they use specifically for the gluten free meals. The pizza crust is prepared offsite in a dedicated facility and comes in its own aluminum bake pan. The particular brand of gluten free pizza crust comes from a manufacturer called Rich's Products. This product is certified gluten free by the GFCO. Ancient Harvest Quinoa Pasta is the brand they use at their restaurant. Pasta is boiled in a separate clean pot with water that is only used for the gluten free pasta. Did I mention the wait staff was knowledgeable, attentive, friendly and prompt?
Below are some of the gluten free options we tried.
Redbridge gluten free beer and wine options are also available.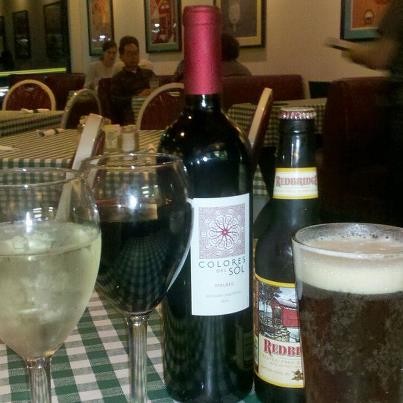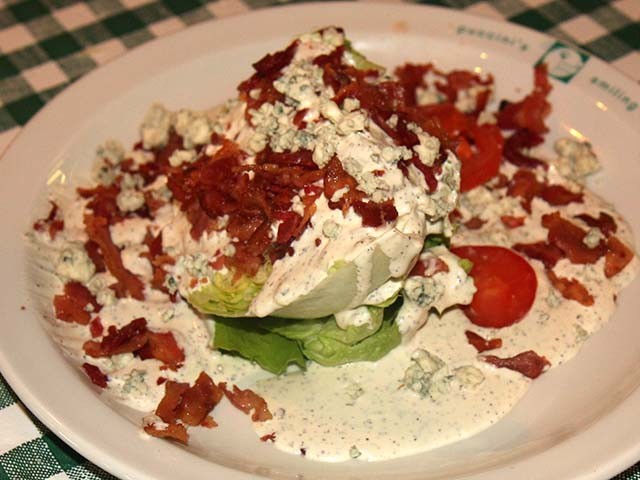 Puccini's Blue Cheese Wedge Salad: Half a head of lettuce served with their creamy and delicious blue cheese dressing. Can be served with or without the crispy bacon bits. We thoroughly enjoyed this salad.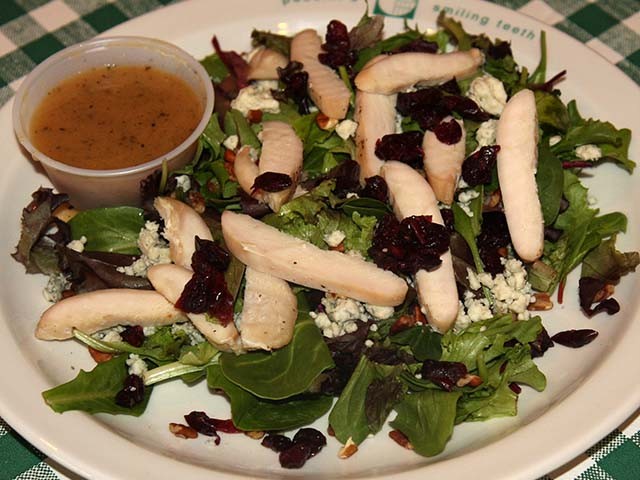 Spring Mix Salad: I really enjoy a good salad and this one won't disappoint you. It is served with pecans (but you can ask for it without the pecans), candied cranberries, crumbled blue cheese and a Dijon vinaigrette. We added grilled chicken to ours…..Yum!!
Appetizers
Appetizers Will be available in the mid- January, 2013.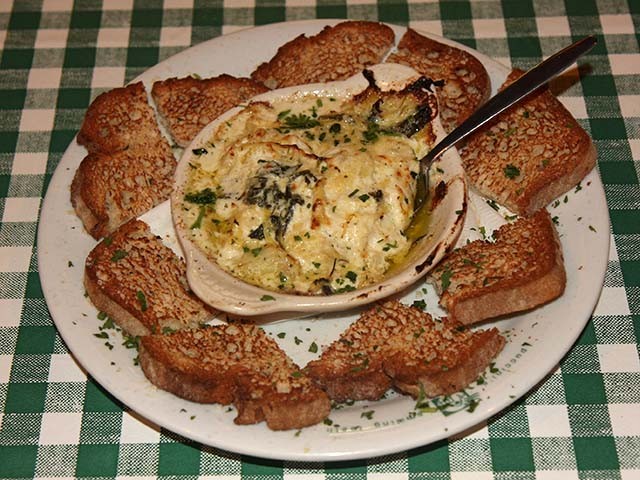 Spinach Artichoke Dip: This is one of their new gluten free options. Served with toasted, sliced commercial size
Udi's bread….we loved this appetizer. Creamy, hot and cheesy, this is a must have for an appetizer!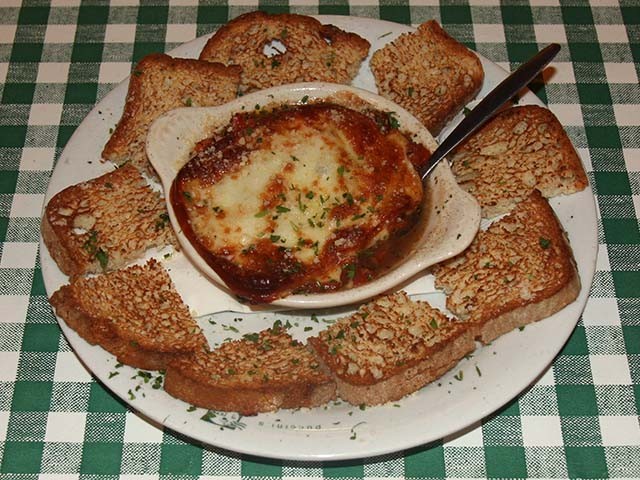 Scamorza: Another new gluten free option. This is melted and smoked mozzarella over tomatoes and herbs and served with Udi's toast for dipping. Very, very delicious!
Pasta Dinners and Other Entrée's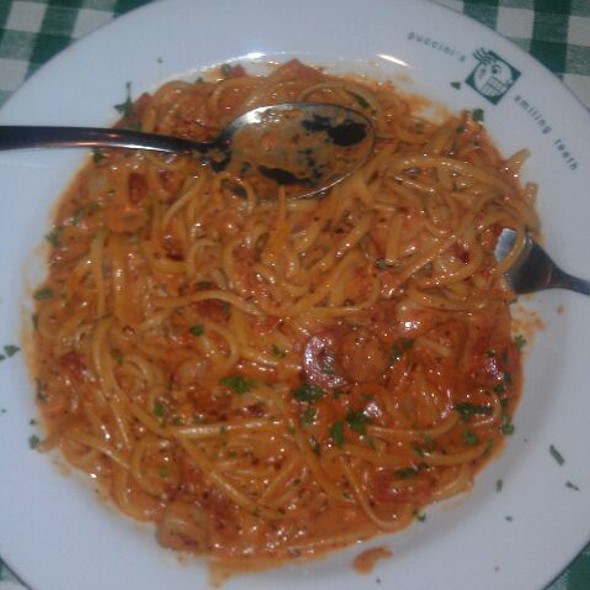 Diavolo: A mild or spicy tomato sauce served with gluten free pasta and your choice of shrimp or chicken. This was very
good!
Rosemary Cream Chicken: This was one of our favorites! Sauteed slices of chicken in a rosemary cream sauce accented with mushrooms and sun-dried tomatoes, served over gluten free pasta.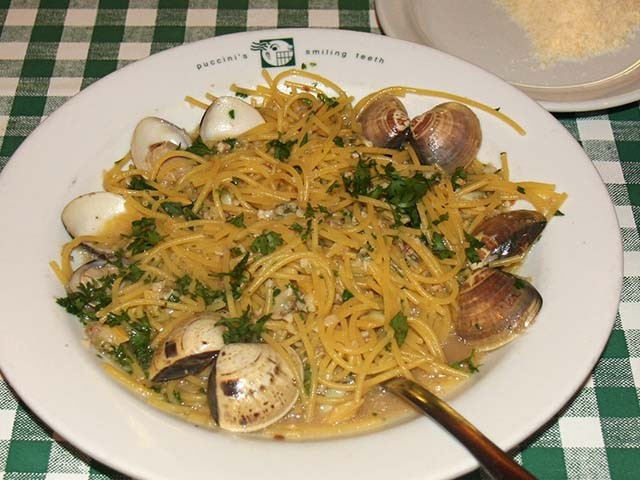 Clams with White Clam Sauce: A generous portion of clams served with a white clam sauce over gluten free pasta. Delish!!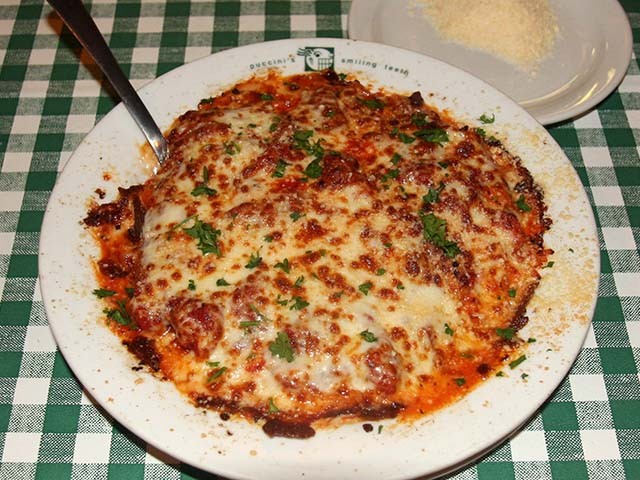 Baked Spaghetti: This was the delicious dish sampled at our gluten free expo at The Puccini's booth. Gluten free pasta is baked with four cheeses (ricotta, provolone, mozzarella and parmesan). Seasoned with herbs, spices and tomato sauce. A definite must try! 2014 UPDATE: This dish may be no longer available at some locations. You can still request this dish, and they will make it gluten-free for you upon request.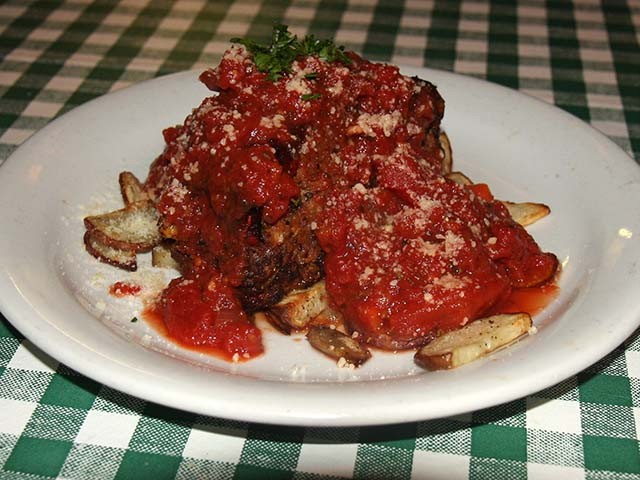 Italian Meatloaf: Another great gluten free option that was sampled on the demo stage at our October 2012 Expo. A generous portion of beef and pork mixed with garlic, onions, spices, eggs, tomatoes, cornmeal, balsamic vinegar and served with seasoned new potatoes. Hearty and tasty, this dish is sure to fill you up!
Gluten Free Sandwiches
Sandwiches will be available mid-January, 2013.
Sandwiches are served with Miss Vickie's potato chips. All sandwiches can be made gluten free with the EXCEPTION of the chicken parmesan and meatball subs. Below are the sandwiches we tried. Sandwiches are made with Udi's whole grain commercial size bread.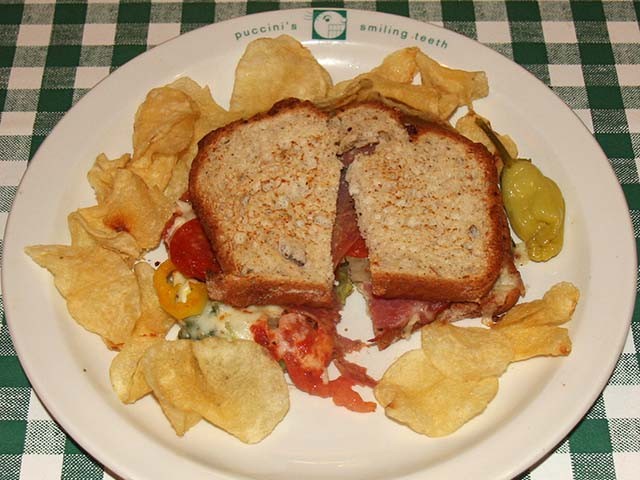 Hot Italian Sandwich: Salami, ham, tomato, pepperoni and banana peppers.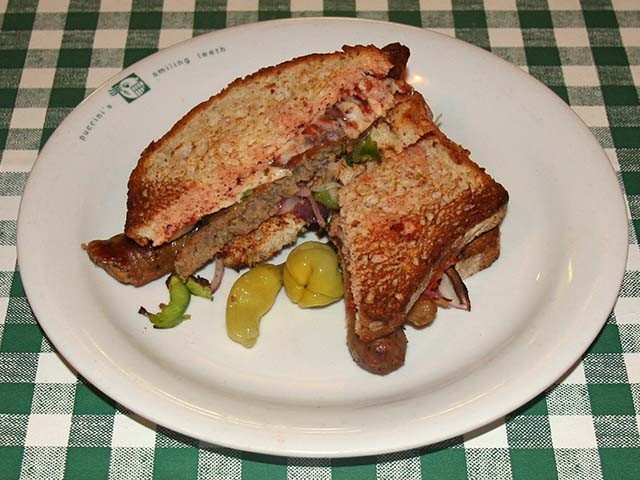 Sicilian Sausage Sandwich: Sweet Sicilian Sausage, with sautéed onions and peppers. This was my favorite of all the sandwiches….but it's hard to pick a fave when everything we tried was just so yummy!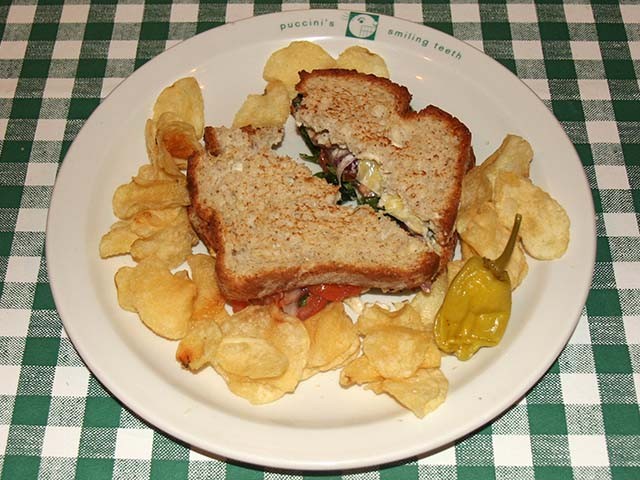 Spinach Artichoke Sandwich: Spinach, mushroom, red onion, tomato and artichoke spread, chicken can be included.
Pizza Selections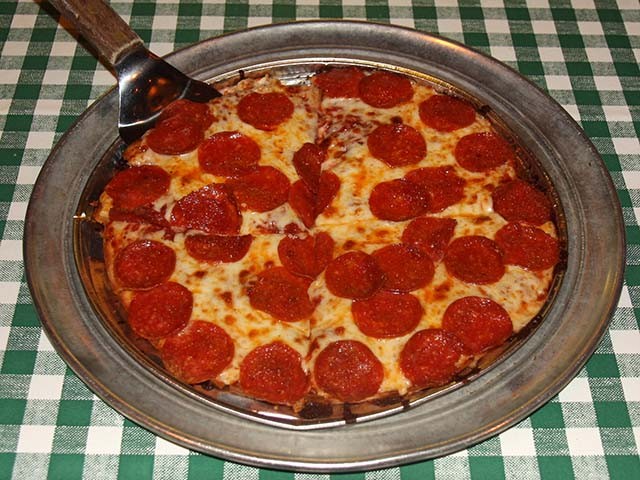 Pepperoni Pizza: Cheesy with a touch of that nice spiciness that comes from great tasting pepperoni….we loved this classic pizza!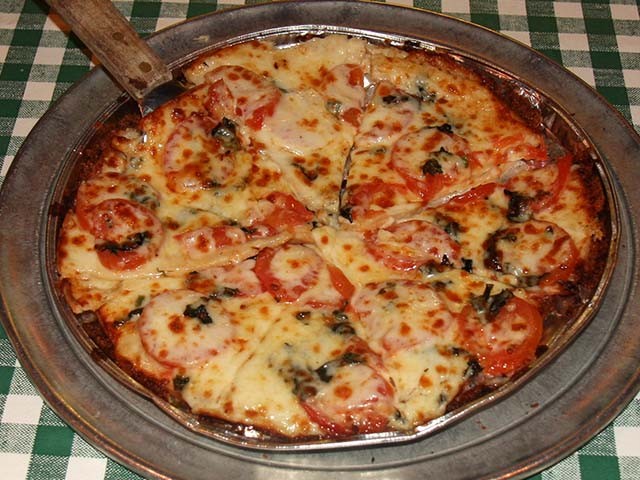 Margherita Pizza: fresh tomatoes, fresh garlic, fresh basil, oregano, and fontina cheese.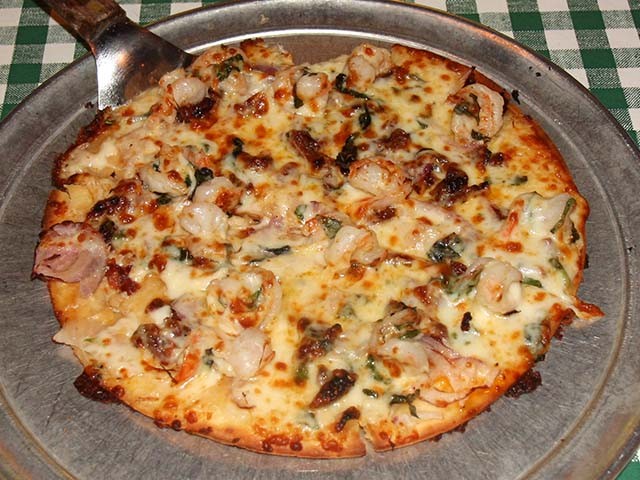 Shrimp Santori: Shrimp, sesame chili oil, red onions, sun dried tomatoes and fresh basil. I loved this pizza…slightly spicy but incredibly scrumptious!
Make your plans to visit a Puccini's near you soon to experience a delicious family friendly gluten free meal. Visit the Gluten Free Living Now
Facebook
page for details on a great giveaway being provided to our community from Puccini's.
Puccini's
has 6 locations here in Indy - open 7 days a week
Friday dinner 4 pm-10:30 pm
Dinner Delivery starts at 5 pm until 15 minutes before closing.
86th & Ditch (317)875-9223
82nd & Dean (317)842-4028
Geist & Marina (317)842-2356
79th & Sunnyside (317)823-0027
Carmel at 136th & Meridian (317)580-0087
Fishers at 116th & I-69 (317)579-0572
Other Locations in Columbus, Bloomington & West Lafayette, IN
Lexington & Louisville, KY